BetFaq bookmaker is a sport and analytical service where you will find free and paid sports predictions from professionals. Here are concentrated, as little-known regional competitions, and the main events in the world of sports. To take advantage of all the offers and possibilities of a bookmaker, you need to register and buy one of the subscriptions on the site. In terms of licenses, everything is transparent; Betdak has all the necessary permissions. Sports predictions are the main goal of the bookmaker. The service provides forecasts for football, hockey, basketball, and tennis. Experienced handicappers develop their strategies and win big money at major sporting events. If you look in detail at the table on the website of the bookmaker's office, you will see average betting odds higher than other offices.
Bookmaker Offers
The official website of the bookmaker demonstrates all the available features for registered players. The service focuses on the most important information for bettors: sports forecasts, lines, statistics, analytics and more. Only on the BetFaq BC website will you find accurate information on forecasts and bets, and not "useful" descriptive articles on matches and tournaments.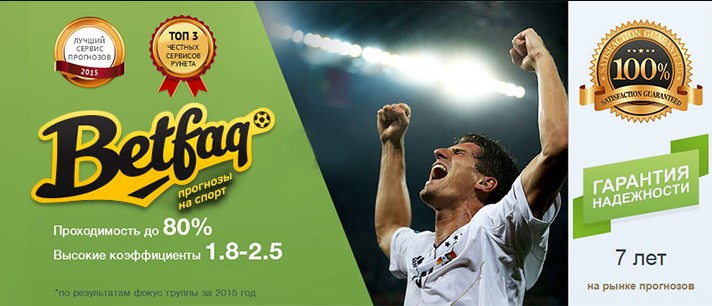 BetFaq  gives a special subscription for registered players. The price for forecasts of cappers ranges from 2,700 to 30,000 rubles. This is affected by the number of forecasts received and the subscription period.
An in-house mobile version allows players to place bets in any convenient way. The full functionality of the service is saved to the smallest detail. The application offers current forecasts, lines, odds, bets and more. You can download it in the online application store on your phone or laptop.
Forecasts for Sport
What gives you a purchased subscription to forecasts:
• Personal consultation with forecasters;
• Up-to-date information and forecasts for future sports events;
• A guarantee in the form of one free premium forecast in case of loss.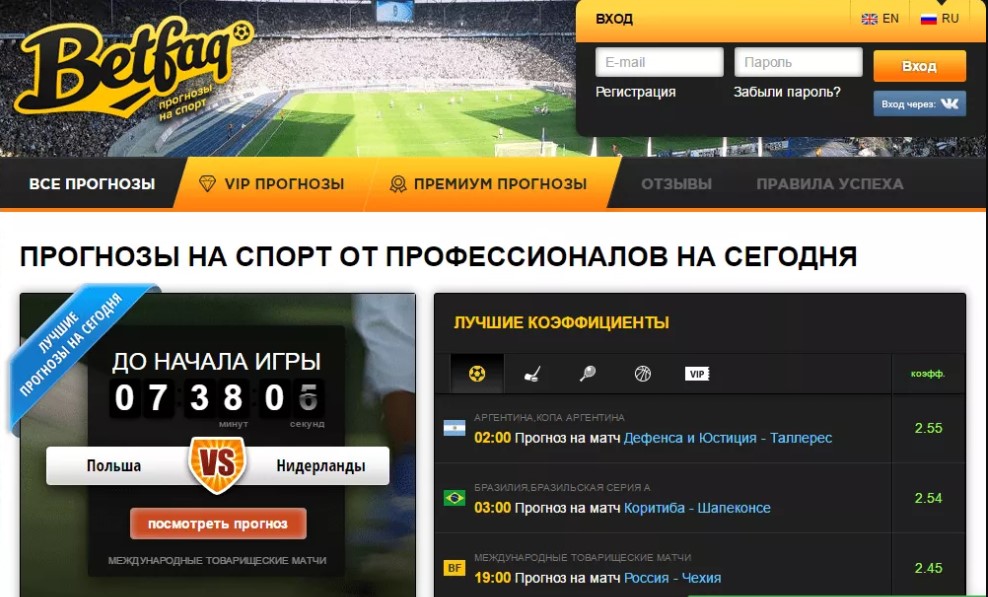 You will find detailed statistics of free and paid predictions for sports on the bookmaker's website. Detailed descriptions, analytics, and tips from experienced players will improve your game in the electronic betting market and create a personal action strategy.
Winning odds
There is a lot of honest feedback from players on the BetFaq BC website and sports reviewer pages. Everyone shares their positive or negative experiences. In any case, the support team is available to the players to resolve any issues and problems soon.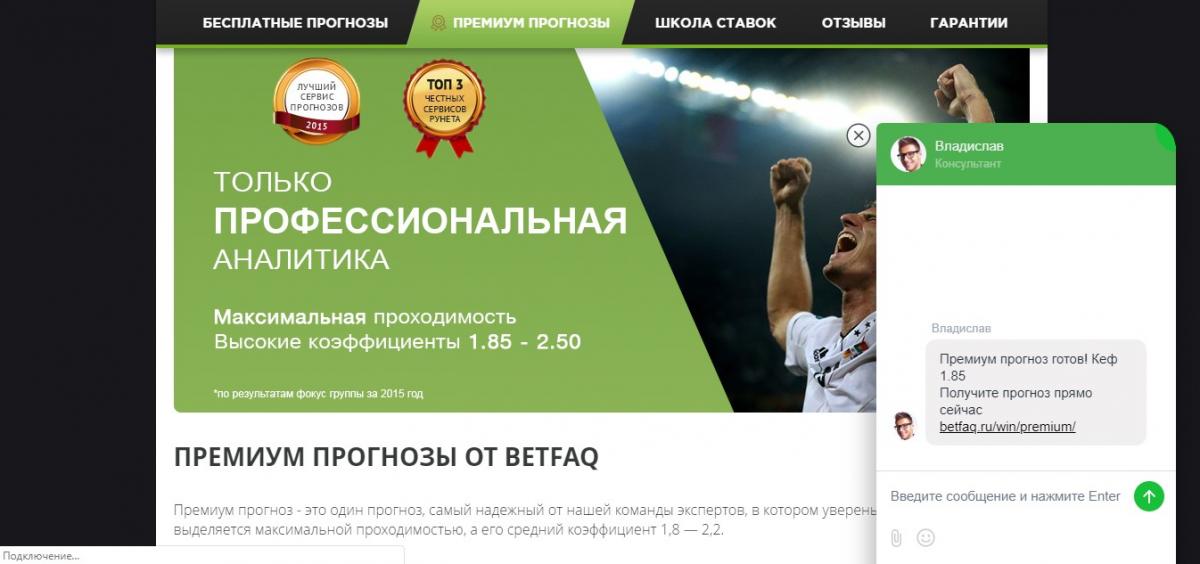 Free and paid predictions allow you to win money on bets. Their real passability is about 70%, but this is affected by the level of coefficients. If you have already subscribed, then you are guaranteed to receive forecasts with detailed arguments. Handicappers describe there what influenced the forecast, as well as what indicators and results should be expected during the game and so on.
Each plus forecast is accompanied by a screenshot of the bet coupon. Therefore, BetFaq BC gives reliable forecasts, which after appearing in the statistics on the site.
Player Reviews
Reviews about the work of the office can be found on the website, in the blogs of sports observers, in chats and groups of social networks. Thousands of people leave their feedback on premium accounts, cooperation with the bookmaker and personal success. Today, a telegram channel is active, where free readers, experts' opinions are published for all readers, as well as live and news are posted on the site. See the drain of premium forecasts inactive chat.
Bookmaker website navigation
The user-friendly interface of the site allows you to find the necessary information and place bets on forecasts with a high probability for honest wins. Subscription forecasts are a real chance to win at the next bet. Sports events for which bets are accepted are on the start page.
Predictions are published in an accessible mode to all players for today, tomorrow and the day after tomorrow. All relevant matches are analyzed by specialists and presented on the site. Such calculations are done on football, hockey, tennis, and basketball.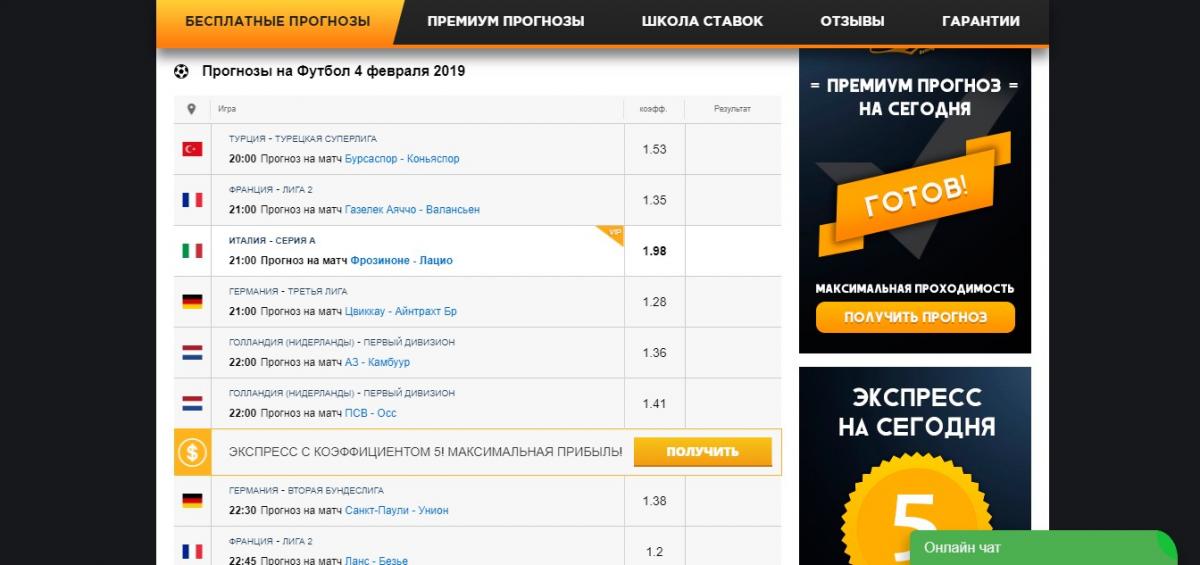 Every day the bookmaker publishes new promotions, bonuses and unique offers that are available to all users in the process of playing at BetFaq. For example, a special premium forecast for today's matches, express bets with maximum profit and so on.
Site Categories
On the site you will find many useful additions and opportunities for players: tips, live streaming of matches, answers to frequently asked questions from players, customer reviews for bookmaker predictions and much more. Experienced forecasters of sports events make winning sports bets and share them by subscription.
• "Free forecasts" focused on the start page with an extensive line;
• "Premium forecasts" for professional analytics are available by subscription for users of a premium account, and not for free. High ratios and maximum passability are guaranteed;
• "Betting School" provides new and useful knowledge for beginners. Each bettor will learn how to make winning bets, think through his strategy and use forecasts correctly;
• "Reviews" provide complete reports of active players with screenshots of payments from the bookmaker;
• "Guarantees" for all actions of players on the website of the bookmaker with a detailed description.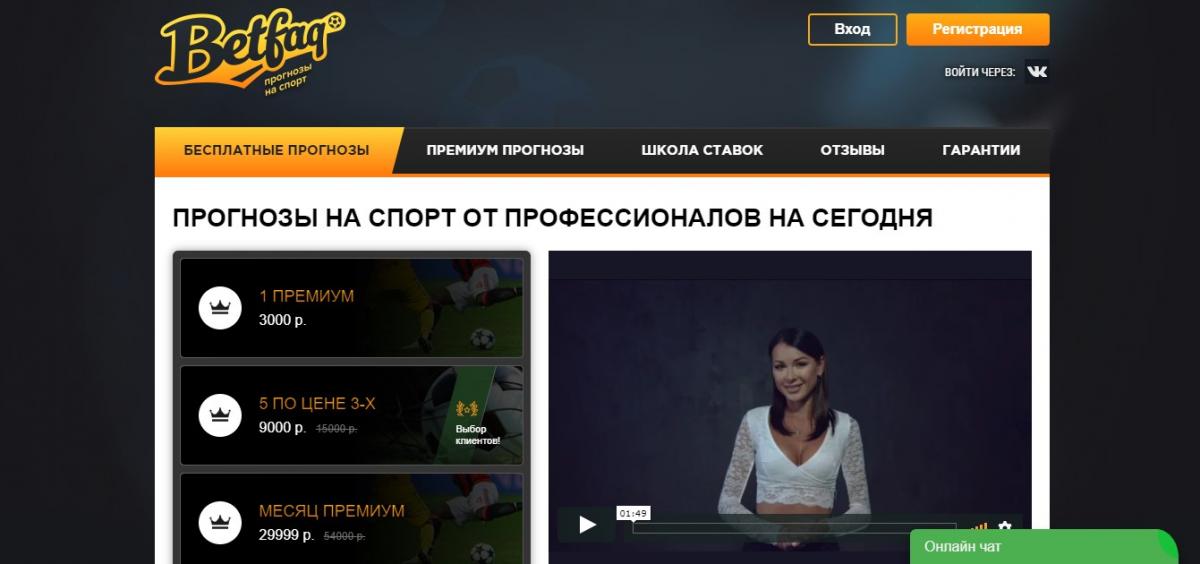 Registration
Anyone can register on the BetFaq BC website. To do this, you must enter your email to confirm. Within a minute you will receive an email with instructions for activating your account. As soon as you do all the manipulations you will only need to fill out a player's profile and apply the data you specified. Typically, account verification and user identification take little time.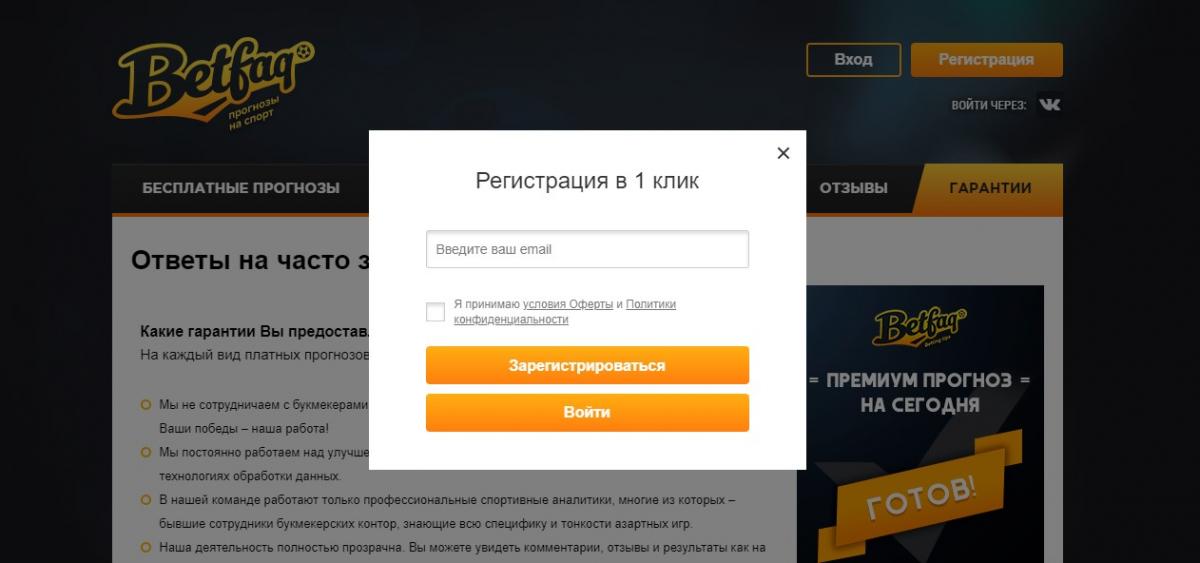 To enter your account you only need to enter the email and password that you specify when registering. Login is also available through social networks, namely Vkontakte.
Cash withdrawal
The player makes the first deposit after registration. Having created an account on the official website, you need to choose a convenient payment system and currency in which you want to withdraw money. With each subsequent translation, these parameters will be applied automatically. The bookmaker offers a list of possible payment systems with which it works. Transfers to electronic wallets, bank cards, and accounts are available.