The bookmaker Pinnet RS is a local Serbian gaming company. Even though this BC is designed mainly for residents of Serbia, the site is adapted for different languages: Albanian, Greek, English, French, Swedish, Turkish, Italian and German. The Russian language is not represented in this bookmaker. Nevertheless, you can play here from anywhere in the world. Be it Belarus, Russia, Kazakhstan, Azerbaijan, Cyprus, Barcelona or Liverpool.
The site's interface is very clear, all sections are placed so that it is convenient to place bets and monitor the outcome of the game.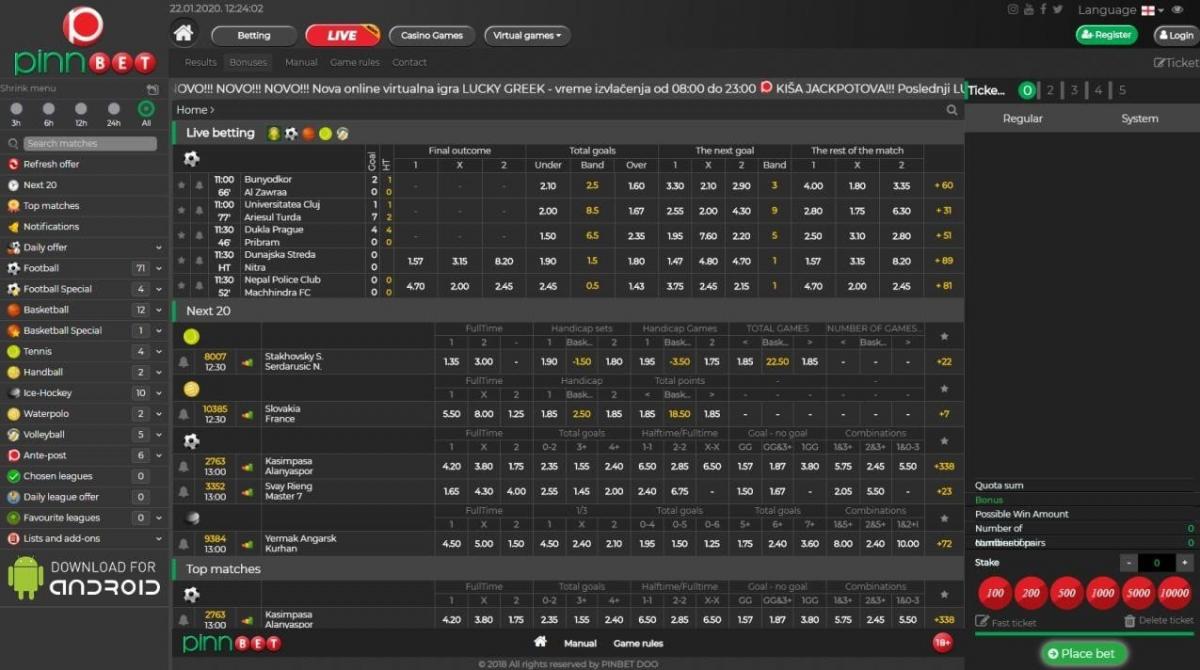 Registration
For registration does not require installation, attachments, documents. This can be done in one click. After registration, the authorization will be quick. The profile will display all the necessary information: bonus account, score balance, notifications, statistics, results. You can also add selected matches and bets to the "Favorites" section. If you forget the password, you can always restore it. To do this, you will need to enter your email.
Line painting
On the official website of the bookmaker, there is an opportunity to bet on sports. As an alternative - you can play in a casino or virtual game (Lucky Six, Lucky Red, Lucky Ball).
Sports Betting
You can bet on such sports:
football;
hockey;
tennis;
handball;
basketball;
volleyball;
water polo.
Since football is considered the most popular form of betting, the list there is quite wide. After registering and entering the profile, you can bet on both local teams and the Champions League, the match Barcelona - Real, Juventus - Bayern, etc. Large coverage makes it possible to choose a match and team to your taste.
Support service
Support is open every day from 8:00 to 23:00. You can contact them online mode using live chat or call +381 69 804 64 63. You can also write to the support service at the email address: info@pinnbet.rs.
They respond, as a rule, promptly, competently and can give psychological help.
Bonuses
The site gives 300% of sports bonuses.
Mobile version and application
In this BC, in addition to the version for the PC (computer), when you can go from the browser, you can also use the free mobile version and the Android application, ios, which can be downloaded to the play market and in the app store.
Methods of payment/withdrawal of funds
To withdraw money and top up an account, one of the payment methods is used:
Visa
Bank Transfer
MasterCard.
Does not load/start / go to the official website
If you were unable to access the official website of BC Pinnbet RS, you can always find and use a working and current mirror. If here you can't download the site, you need to use the VPN extension or a special proxy server to bypass the block.
Security
To protect personal data and from hacking, the site uses the maximum level of verification (two-factor verification). You cannot log in to this BC using social networks such as VK, Instagram, YouTube, etc.
Telegram channel
BC Pinnetbet has a telegram channel (but no bot telegrams). However, at the moment it is not active and is not updated regularly. If you want to keep abreast of events, forecasts, TV broadcasts of championships and matches, then look for special channels for which both beginners and advanced bettors are subscribed. There you can get support in case of loss or share the joy of winning with others.