SuperSport bookmaker hails from Croatia. It was launched in 2010 in Zagreb. Today the official site provides the opportunity to place bets from any country and city (Ukraine, Russia, Kazakhstan, Uzbekistan, Europe, Asia) on such sports as football, basketball, volleyball, sand volleyball, tennis and table tennis, hockey and American football.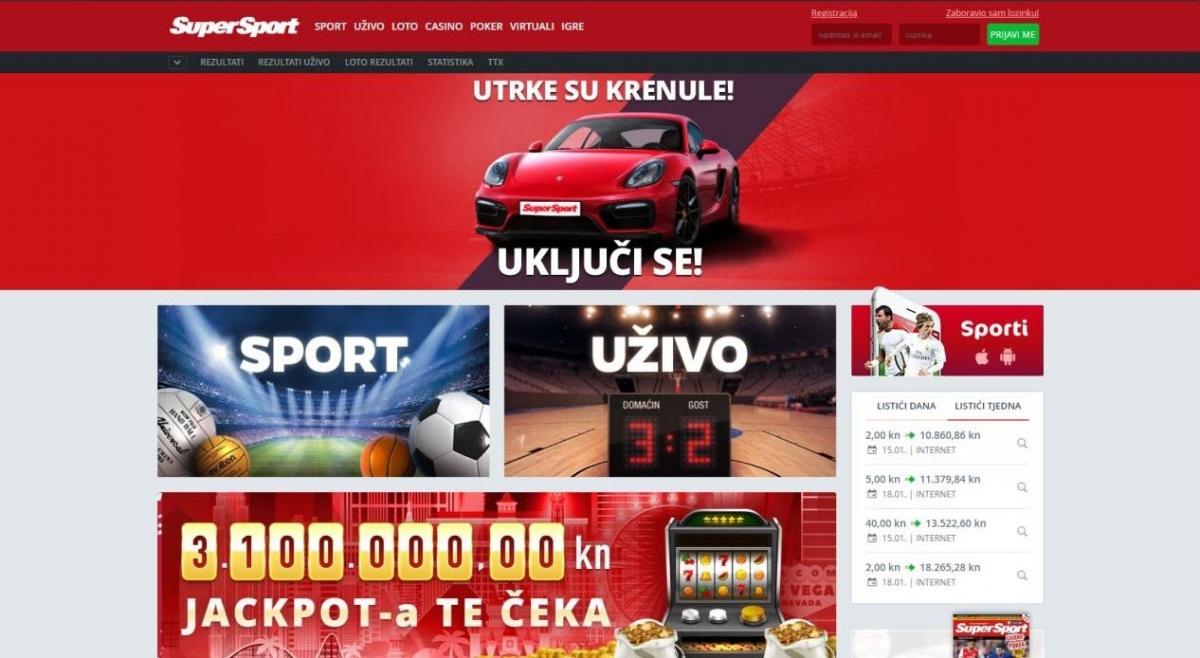 Casino, lotto, slots
In addition to sporting events, bettors can bet at casinos, lottos, and poker.
Also on the working site of the Croatian BC SuperSport, you can watch statistics and monitor the results.
In 2017, SuperSport launched a new product - eCasino. In this category, the top panel displays the most popular games, as well as the winners of the day and recent achievements.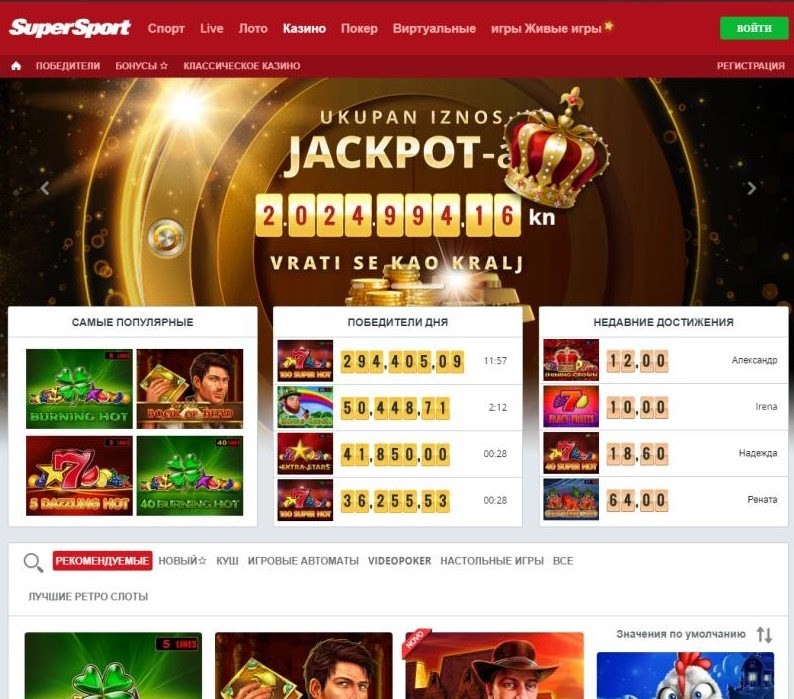 Registration
Registration is easy, without attachments, documents or sending SMS. After it, you will be given access to enter your account. Your profile/account will display a balance of points and a bonus account. Notifications will also be displayed there, which you can quickly and easily check with one click.
All types of bets and odds are conveniently located on the main page. Also on the top panel, there are such sections: Results, Statistics, Lottery.
If you don't remember your password, then in the upper right corner, near the registration button, there is help for recovering it: "forgot your password?". Is it possible to change personal data? You can change the password and email in the account yourself, but to change the nickname, you need to contact support.
Live betting
You can bet in real-time in the Live section. In addition to sporting events, the e-sports category is also available (although the list is rather small). Most emphasis is placed on football, as the most popular sport not only in Croatia but throughout the world.
Virtual games
On the site, you can place bets online on football, tennis, basketball, volleyball and other sports.
SuperSport also provides the opportunity to place bets in the online game simulator 24/7. The game of simulations is based on the game of real teams (for example, Real Madrid or Barcelona).
Accounts, Blocking, Security
SuperSport website is protected from hacking, draining and cheating. Bots are blocked. Users who do not follow the rules of the site and try to withdraw funds that exceed the limit are blocked.
Support
In case of questions, you can contact support. They have their email: ssport@supersport.hr.
Payment Methods
Payment methods of a betting shop:
Visa
MasterCard;
Maestro;
Paysafecard;
Skrill
CorvusPay.
You can also use the Air cash application or bank terminals.
Mobile version
Right now, the bookmaker has not yet developed an application for Android and iOS (iPhone / iPad), but a free mobile version is available, which does not need to be downloaded. It is enough to enter the site from a working device. Then the players will be available functions, as in the version for the PC (computer).
If the official website for some reason does not work, then you can always use the current working mirror and start betting.
If you encounter a block, or the site or the mirror does not work, then you can use a VPN or proxy server to bypass the block.
Conclusion
The SuperSport bookmaker is reliable and trustworthy since gambling is legal in Croatia. You cannot stay without a win, because the company is customer-oriented. This attracts many Croatian and foreign bettors.